ELECTRONICS COMPUTERS & SYSTEMS
OVER 25 YEARS PROVIDING ELEGANT CUSTOM-BUILT SOFTWARE FOR OUR CUSTOMERS
We are Electronics Computers & Systems, a software development company established in 1992. We thrive in providing rapid, elegant solutions to real and complex business challenges for companies of all sizes – at a fixed price.
We share our expert knowledge to ensure that we provide the best bespoke solution for you.
We deliver our projects on a fixed price basis, so that you can have certainty on a cost-effective system and speedy delivery.
We work hard to earn your trust and we honour this – we maintain a transparent and professional relationship with you throughout each project and beyond.
By working with ECS you are guaranteed to receive high quality, cost-effective solutions from a reliable company.
We provide a full range of development and consultancy services that enable your business to thrive for the future.
ECS NEWS
Innovation Martlesham Expo – November 2019
ECS is a proud member of Innovation Martlesham and back in November, we took our place in an Exposition alongside other members of the cluster to showcase what ECS do, how we do it, and how we are adopting new technologies and ways of working to deliver even more for our clients.
As well as a rolling demonstration of a specially commissioned micro-services based app, built using Agile techniques, we were also proud to hold a charity draw for the attendees which included the Top 100 senior technology managers from BT, as well as other invited guests from across the region.
We drew the winner at the close of the Expo and as a result, ECS made a donation of £250 to 'Save the Children', the charity nominated by the winner of the draw – Chang Liu of Extend Robotics.  We believe in partnering and giving back and this event meant we could put our words into action.
One of our invitees – a chief executive from a local council – reflected that the ECS demonstration led to a "really interesting" discussion about the opportunities and possibilities that lie ahead and the Head of Innovation Martlesham – Nicky Daniels – thanked ECS for "the huge amount of effort you put into making the IM EXPO a very successful event".  As a result of the Expo we are continuing to downstream our innovations and working ever more closely with BT and others in partnering opportunities, laying the foundations for the next Expo event later in 2020.
Find out more about Extend Robotics here.
Find out more about Innovation Martlesham here.
Find out more about Save the Children here.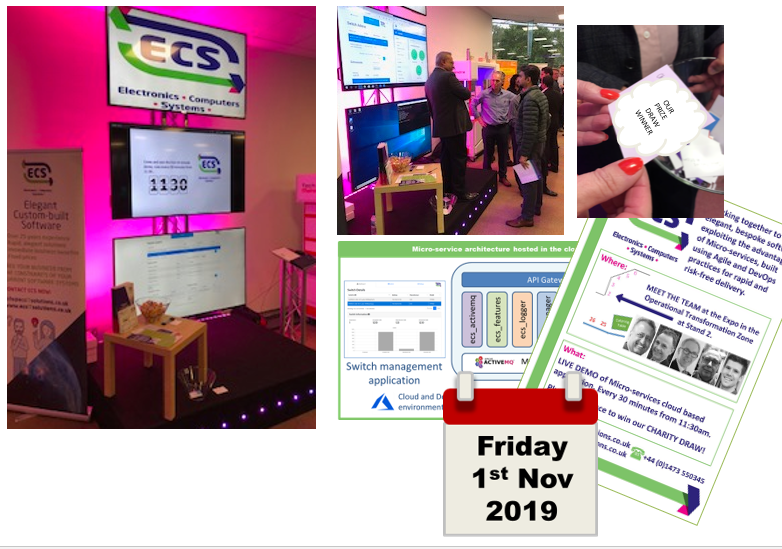 WHAT OUR CUSTOMERS SAY ABOUT US
I was struggling to produce The Levels Framework Assessment. It was the missing link in our family of client offerings however I was getting lost and could not see the wood for the trees.
Kirit and ECS simplified the logic and laid out the path to making The Levels Framework Assessment a reality. Kirit has the skill to make the complex simple.
Ray Moore
Owner, Fluid Business Coaching
I have had the pleasure of working with the ECS Team throughout the development of IRIS. At over 25,000 visits per year across the whole country…the way the tablet creates the report for the customer to see whilst our team is still on-site has received great feedback from our 120 councils in the UK.
Our internal processes have sped up to a point where customers receive their quote and report the same day as the inspection…the report feedback direct from the customers is very positive.
The company is now looking at IRIS V2; this will take the system further forward and increase productivity across the business.
Paul Neill
Operations Director, SportsafeUK
Having worked with Kirit for many years, I know that he has a genuine passion for quality and can be trusted to exceed expectations whenever possible. Above all, Kirit and ECS are a pleasure to work with. The significant repeat business from major clients over the years is testimony to that fact.